A while back I discovered that I had quit taking before photos. Honest, it was not an intentional decision, I just get so busy pulling the next piece and quickly working to get it rolling along. So I have no proof, but you'll have to trust me that this next piece was a Hot Mess! Seriously I believe some of the previous repairs may have been made with silly putty stuffed into crevices and holes. It was the lumpiest sort of mess. We chiseled and sanded, and filled properly and often. We glued and clamped and rebuilt missing pieces. And "Voila`" she is new again. Well not without some Linen MMS Milk Paint first.
Hope Spring is blooming where you are cuz it's cold here today!! Deb
Linking to:
And a HUGE Thank You to Marian, aka Miss Mustard Seed, for featuring my Sheet Music Dresser this week!
My Sheet Music Dresser was featured at: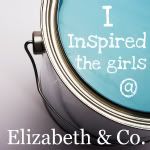 Thank you Sharon and the Ladies at Elizabeth & Co.!!